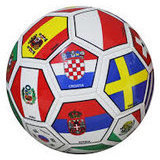 About This Club
Everything about the 'beautiful game'
---
What's new in this club

The Reds will be there in the end. I do believe they have earned the title this season more than Man C.

COYR. I declared for Liverpool years ago based on Bill Simmons' write-up for the EPL that he did for ESPN's fledgling online presence. It was the song that got me. That, and it was the home of the Beatles. My fandom has crept up on me. When Gerrard slipped, I was bummed -- but not quite bummed like a fan would be. Nowadays, I find myself thinking about the title race as much, if not more, than the Sabres' fortunes. Nervy stuff. City is a machine.

Both Arsenal and Chelsea are pretty terrible this season. That said, we must do what we must do. I want both to finish higher than Man U.

Haha, depending on Arsenal is like rooting for the Titanic.

Damn ... https://www.google.com/search?q=epl&rlz=1C1CHBF_enCA822CA822&oq=epl&aqs=chrome..69i57j0j35i39j0l3.2099j0j7&sourceid=chrome&ie=UTF-8#sie=lg;/g/11f60x_ln9;2;/m/02_tc;st;fp;1;; We simply cannot allow Man U to finish top 4. I am now an all out supporter of The Gunners and Sea to finish 4th and 5th in whatever order they see fit. I think I would prefer Arsenal in the CL for 2019.

Championship table looks nicer now.

Fair. Though you should be happy, because this'll make Everton's stock go up. I'm not THAT heartless.

Correct. I thought it was well advertised that all abandoners must abandon to Liverpool.

That's what you get, traitor.

*starts rooting for Chelsea* *Chelsea loses 4-0 to Bournemouth*

Chelsea v ManU in the FA cup next round. Should be fun

Because they changed managers from one that had completely messed up and they are winning against bottom half of the table sides? No, I will still have my fun. Although, at this point a top 4 finish is not out of the question based on the 3 and 4 sides being just about as stupidly managed on the pitch as Man U was. That would truly be the most disappointing outcome of the season, IMO.

I think it's just about time for everybody to admit that United are back.

Excited to get to watch my team (Chelsea, who I've definitely always rooted for since childhood and not since last week when they bought Pulisic) play on NBC tomorrow so I don't have to find a stream online somewhere. Assuming, of course, that my antenna actually decides to pick up NBC for once.

Liverpool awaits, my friend. We will gladly take your support. Liverpool still on top of the table 4 points clear of Man C. Man U better not make the top 4 after their horrible start to this season. I will be very pissed if that comes about.

Our league is seen as the best league for young players to grow before they go to the EPL or any other of the top 5 european leagues. Sadly a lot of our teams from our 1st and 2nd division are in foreign hands now. Glad mine is still independent.

Arsenal are a first-class comedy troupe. I can't even.

In other MLS news ... https://www.cbc.ca/sports/soccer/mls/wayne-rooney-arrest-public-intoxication-1.4967845 Somethings never really change, eh?

The holidays messed with the EPL. No matches this weekend, but somehow I missed a huge win my Man C over Liverpool on Thursday. A year ago I would have loved that result. Now? Not so much. Still very close at the top of the table.

I was hoping for Spurs myself, but I'll take Chelsea. I like that situation a lot more for him now that Conte is gone.

Dang. Was hoping he would go to Liverpool. I don't like Sea.

Chelsea signing Pulisic for $73m, he's on loan back to Dortmund until the end of this season. Guess I have to start watching Chelsea games now.

The EPL is so wierd. They will have weeks off for no real reason and now they are playing matches on no real rest. Most played on Dec. 29/30 and now are plaing today / tomorrow.