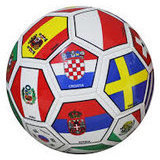 About This Club
Everything about the 'beautiful game'
---
What's new in this club

Norwich is 6 points clear of Leeds with 2 games to play and a +10 goal differential. Fingers crossed that my Canaries will be back on TV next season!

Woohoo Everton!! Man U .... ha,ha,ha,ha,ha .......... 🚾

GO GUNNERS!! And I hate Arsenal almost as much as Man U.

steveoath

joined the club

Let's hope Guardiola's need to take a team with a disgusting stockpile of talent and make it look like they were managed to the title doesn't backfire, again, in the next leg. Liverpool should beat Porto. Meh.

The Spurs did not Spurs it up today. Maybe on the next leg. Liverpool did OK too, eh?

Quarterfinals starting now. Let's see how Spurs manage to Spurs this all up... (please, god, make it funny). And as I'm typing, hilarious penalty given by VAR. which Aguero, of all people, misses. Ugh.

What are the odds that the inevitable dip happened right after Ole' got his permanent contract? Long may it continue.

Still a good post almost a month later. Man U ... 🤣

It'll be interesting to see who gets beaten harder, Spuds or ManYoo. Preferably both. By double digits...

well, you had a good run, Spurs

ManU have been outperforming their underlying metrics to an unsustainable degree since Jose left. The correction was always coming... and I'm going to enjoy it.

Not today, is right. Man U has played much better since they got their manage put out to pasture. I still see one of, maybe both, Arsenal and Sea finishing above them.

I see a lot of disappointment in your future. Maybe not today, but there's no way this team isn't finishing top four.

GO GUNNERS!! I am not an Arsenal fan, but hate Man U. +++++ In other news ... Liverpool keeping pace after a scare early on today.

Tomorrows game at the Emirates just got bigger with Spurs finding a way to drop points to Southampton.

11 more games and hopefully I'll be able to fully participate in this thread as a fan of a Premier League team.

My biggest issue with CL is that it is always the same sides in it year after year with few exceptions that are mostly just dumb luck.

He had better be back on board. This is turning into a fun season. Also, very real chance that England sends four teams into the CL quarters, which is exciting.

I heard from our old friend Yuri this morning. He had his moments on here, but I liked him. He and GODD stuck to it with their guns a blazing, just like in good ol' Brixton (hey, oh @Sabel79). Anyway, he is back on side with his beloved Man U, which is his biggest blemish, IMO. GO GUNNERS!!

Crazy couple of days in the CL.

Not to just jump on the guy as all Chelsea fans have been doing, but yeesh Jorginho has been roouuugh. 3 give aways already in the 34th minute in this game, and that missed penalty last week. Killing me.